Description
Pack of 4 pairs of gloves.
4 colors, 1 of each color included in package (Red, Blue, Yellow & Black)
Details
Material
Back of Hand & Fingers Material
I-Mesh
Color of 1st Glove
Red
Color of 2nd Glove
Blue
Color of 3rd Glove
Yellow
Color of 4rth Glove
Black
Color Of Back of Hand Fingertips - Thumb, Index & Middle

Finger Only

Black
Color of Hem on the wrist
Black
Color of Index finger & inside thumb reinforcement
Black
Color of Raised Printing Logo on the glove
Black
Color of Tab on the wrist
Black
Color of Thread for palm, thumb and fingers
Black
Inside Palm Padding
7mm Palm Padding
Left Hand Glove Interior Tag
Size tag
Palm Side Color
Black
Stitch per inch
11-13 locking stitches per inch.
Sizing Chart
Disclaimer - Please notice that our Sizing Chart reflects the measure of the garment, not your body. We recommend you measure your current favorite jacket or pants to compare it to the sizing options available on the garment's product page, or consider adding about 2 - 4 inches of positive ease to your body's measure.
SIZE CHART
Descriptions
M
L
XL
B - Back of Hand Width (back of the hand)
4
4.125
4.25
H- Cuff Length (back of the hand)
1
1.25
1.5
I- Cuff Width (back of the hand)
3.75
4
4.25
Gathered Wrist Width
2.75
3.25
3.5
A-Glove Length (back of the hand)
8.75
9.25
9.75
F- Index Finger (palm side)
2.75
3
3.25
E- Middle Finger Length (palm side)
3.185
3.325
3.5
C- Pinky Finger Length (palm side)
2
2.25
2.5
D- Ring Finger Length (palm side)
3
3.125
3.25
G- Thumb Length (palm side)
2.75
3
3.125
(All measurements are in "inches")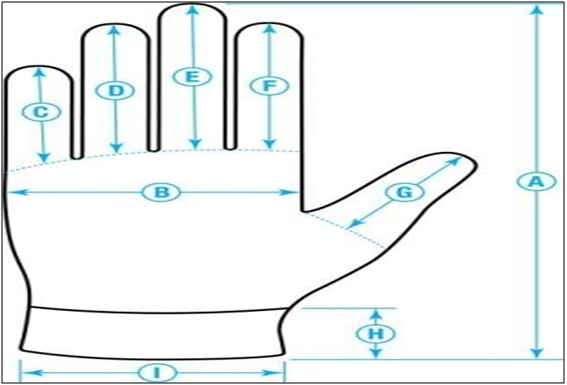 Why Shop With Us
Free Shipping

Lifetime Warranty

QUALITY & SERVICES

Money-Back Guarantee

Easy Returns